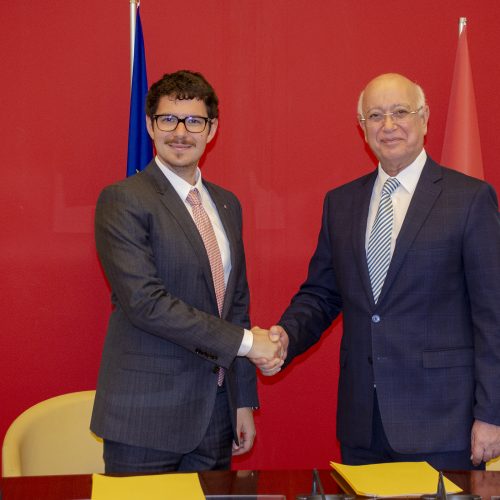 Expanding its network of partner universities worldwide, Gulf Medical University (GMU), Ajman, the leading medical University in the Middle East region has entered into an agreement with the internationally renowned Vita-Salute San Raffaele University, Milan, Italy to offer a collaborative medical degree program as well as joint undertakings in research and innovation. Two separate agreements were signed by both the universities to this effect, recently.
The collaborative medical degree program consists of the pre-clinical Degree in Pre-Clinical Sciences offered by Gulf Medical University and the registration for the clinical phase conducted by Vita-Salute San Raffaele University. Students enrolling for the program will register for the Preclinical Sciences Program (pre-clinical science phase) offered by GMU. On successful completion of pre-clinical science phase, the students will progress to the clinical phase of the MD program offered by the Vita-Salute San Raffaele University. After successfully completing the clinical phase, students will be awarded an MD Degree by the Vita-Salute San Raffaele University.
On the research front, GMU's Thumbay Research Institute for Precision Medicine (TRIPM) – the hub for basic and translational research and innovation for postgraduate studies in the biomedical sciences – will collaborate with the Vita-Salute San Raffaele University (SRU) Research Centre to undertake joint efforts to promote and develop cooperation in healthcare, biomedical research, innovation and education, as well as to initiate cooperation in the fields of cancer and biomedical research.
Prof. Hossam Hamdy, the Chancellor of GMU said he hoped that the collaboration would open up a broader spectrum of cooperation and professional collaboration between both the universities. "This is a major collaboration with a top University in Europe. We are confident that this collaboration would to facilitate continuing professional development in the healthcare industry," he added. The students will start the elective courses in 2019. GMU provides training to its students across 19 top hospitals in the country, with a total of 5568 beds.
GMU provides a number of collaborative programs with distinguished academic institutes and universities, such as the University of Arizona, University of Paris, Medical University of Lublin – Poland, Tokyo Medical and Dental University – Japan, China etc. This is part of the internationalization of GMU, offering its students the chance to learn and get training in the USA, Europe, China, Japan and France. GMU receives students from more than 80 countries as its reputation and image goes beyond the region.